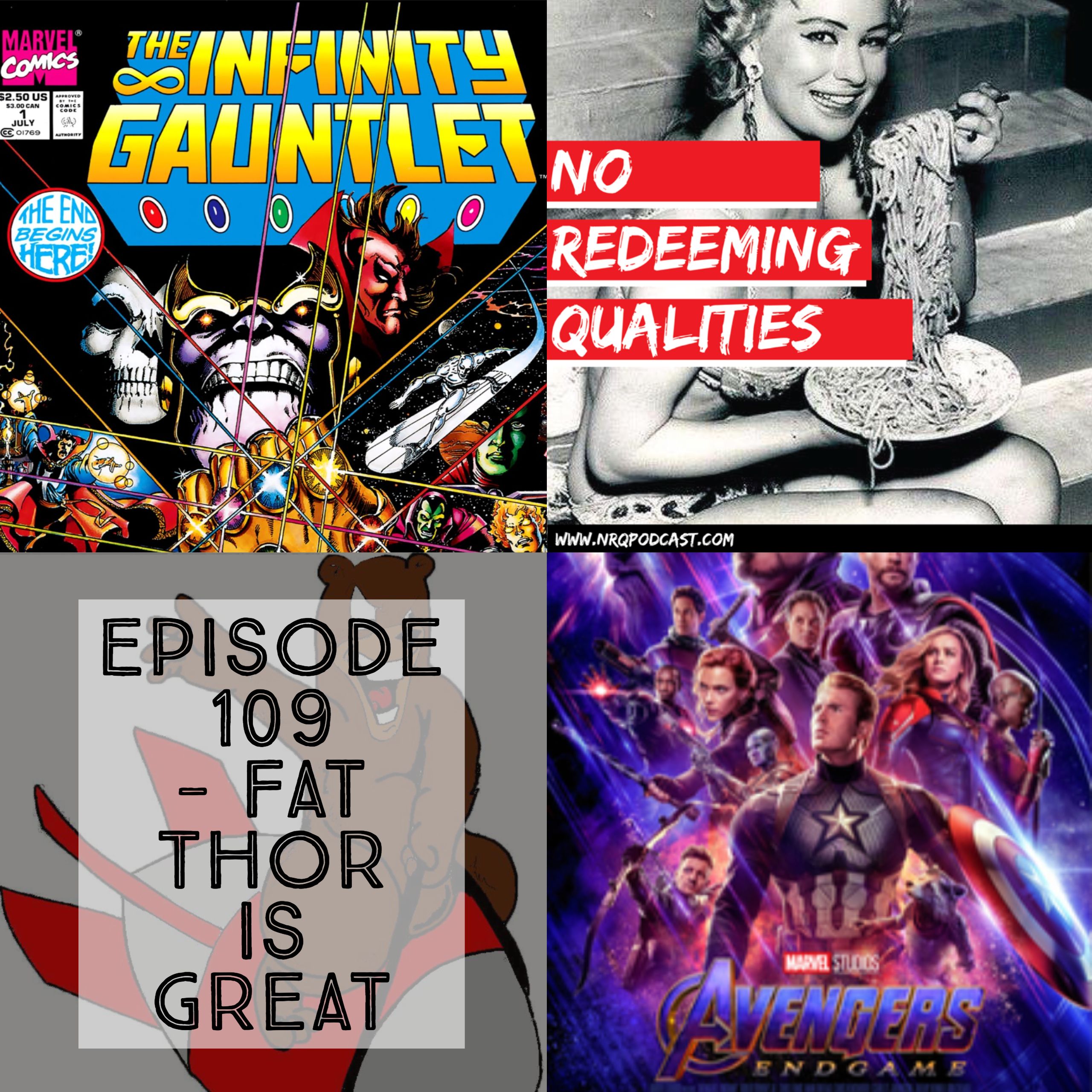 Doc and Scoot are two nerdy writers who write about nerdy things. As a matter of fact, they once worked alongside Bob and Zipp long before NRQ was even a thing, at the moderately successful website BamKapow.com (now a limo service in New Jersey. Not kidding). They join NRQ to discuss Avengers: End Game, compare and contrast it to the original Infinity Gauntlet comic, and mock their old editor-in-chief.
Check out more of Doc at: The Nerd Server https://soundcloud.com/the-nerd-server Grizzly Bomb https://grizzlybomb.com/
Check out more of Scoot at: CBR https://www.cbr.com/author/sall/?fbclid=IwAR3dx7gLXhkK8jaMb4I2ueqrP89lPCfnLyCA0gMgIs3n4Mwe-urqyHnavTc
Screen Rant https://screenrant.com/author/sall/?fbclid=IwAR3BkhVLGxQzrwIcntw2dKxIQZBH9uloeSSQ0E_SFEVA0i_vlEGhz92AIbo
Follow the No Redeeming Qualities Podcast! It's the best way to find new episodes, see memes, and check out the occasional butt or two!
Website: NRQpodcast.com
 Facebook: Facebook.com/NRQpodcast                                Twitter: Twitter.com/NRQ_podcast
Instagram: Instagram.com/NRQpodcast    Youtube: Youtube.com/channel/UCEmxHabHFkSnXnQhYJpEWPQ
Facebook Group (it's lit): Facebook.com/groups/119684931960080/?ref=br_rs 
Patreon: Patreon.com/NRQpodcast
Sponsor's for today's episode are:
 Defendmetexas.com                                                                                          Cbdeeznutz.net (promo code NRQ10)                                                            Audibletrial.com/NRQpodcast
Music provided by The Bass Chef. He can be contacted for gigs at the following: 
Twitter: @The_Bass_Chef
 Snapchat and Instagram: @thebasschef
 Email: thebasschef@gmail.com